Dreaming Backwards: Cedric Mizero & Lady Soulfly on Neptune Frost's Costumes, Makeup and Hair



By Makeda Mahadeo
Reviewers and media classify
Neptune Frost
as a musical feature film, but from its first image—literally the opening scene—the film promises to be as visually gripping as it is sonically stunning—and then delivers.
Colourful, intricate hairstyles, accessories, makeup and set design against an East African landscape capture you from the very beginning. You sense that if you look away at any moment you might miss a stroke of genius.
We know the creative muscle behind the story, dialogue, music and direction is largely thanks to co-directors Saul Williams and Anisia Uzeyman, but much of
Neptune
's look and feel can be attributed to another duo; Costume and Set Designer Cedric Mizero, and Make-Up Artist/Hairstylist Tanya (NENA) Melendez are responsible for creating the cast's unique looks and much of the world they inhabit. Creating a lived-in world, which toggles between familiar and utterly far-out, with characters donning computer components as clothing and fashion accessories, couldn't have been easy. But these two understood the assignment.
I spoke to each of them about how they managed to fulfill Saul and Anisia's vision despite tight schedules, limited resources and sometimes remote locations. What I gleaned from my conversations with each of them is that their lived experiences and personal passions played a significant role in bringing this vision to life.
Versatile filmmakers aside, the film's cast is almost entirely made up of multihyphenate creatives: rappers, dancers, musicians, poets, photographers. The actors who play the two lead characters, Matalusa and Neptune, are played by rapper/actor Kaya Free and DJ/actress Cheryl Isheja. The character that plays Neptune before the big transformation is played by contortionist dancer/actor Elvis Ngabo. The cast is rounded out by other Rwanda-based creatives like poet Natasha Muziramakenga, spoken word artist/rapper Eric OneKey, comedian Atome, music producer Michael Makembe, and many more. There's even a cameo by the legendary Rwandan traditional singer Cecile Kayirebwa.
Unsurprisingly, the creative duo behind the cast's looks are also multidisciplinary artists.
Melendez
, an L.A. native of Puerto Rican origin, referred to her participation in
Neptune Frost
as 'a dream come true'.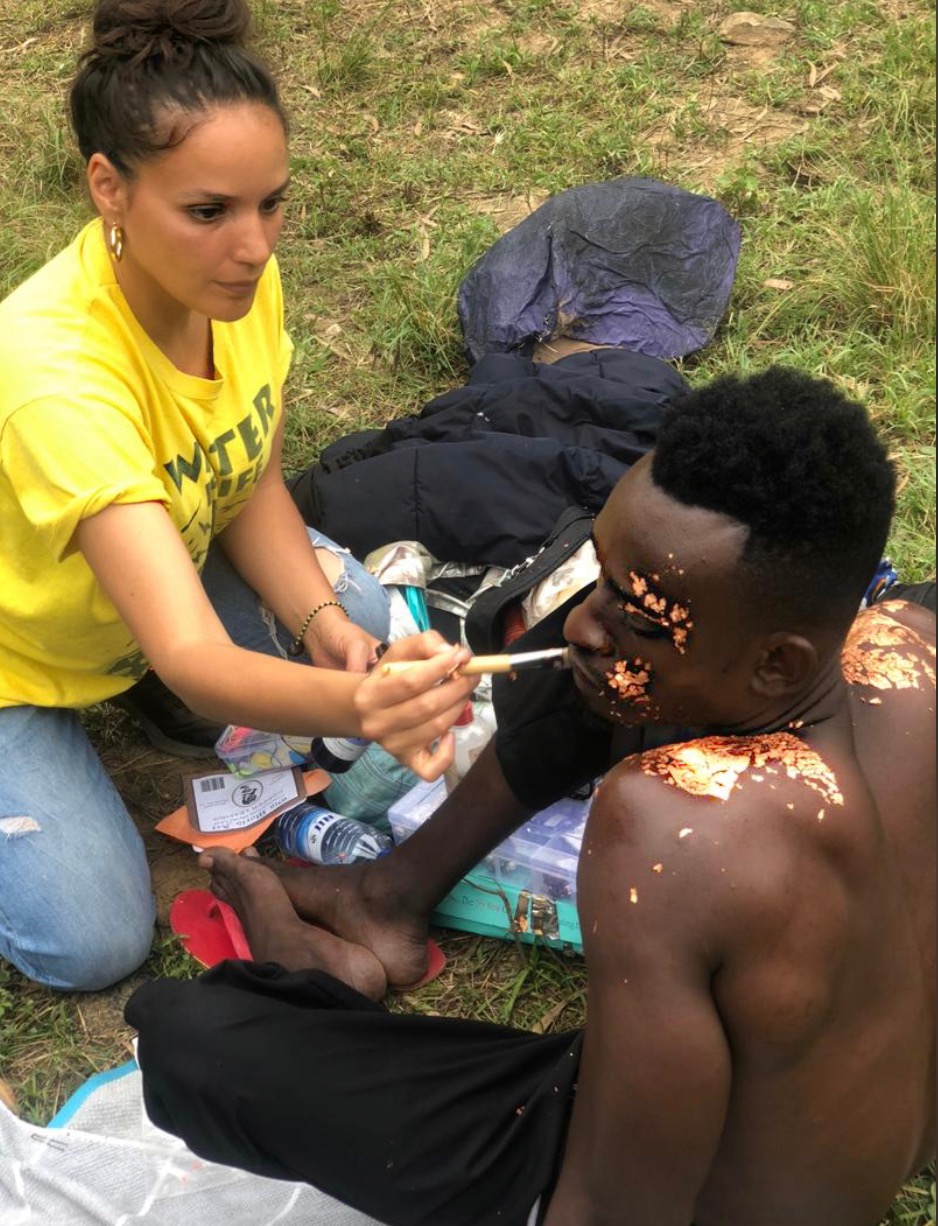 For this project, her artistry took her to the rolling hills of Rwanda, where
Neptune Frost
was shot.
'I'm a multidisciplinary artist, I have a background in fine art, painting and sculpture. In my younger years, I just tried to embrace where my art wanted to take me.'



'I dabbled in fashion design, jewellery making and then just kind of found my way into hair and make-up, but still use the techniques and eye of sculpture and weaving with hair.'



When it came to Melendez's briefing for the film, Saul and Anisia told her to look as far into the future as she could imagine and come up with hair and make-up ideas that she foresaw happening then.
She decided to start in the other direction:
'I always say that you cannot move forward unless you go back into the past. You have to know your history; you have to know history. Period. I always draw inspiration from the styles of precolonial days because I feel like they were in themselve's technology, a language that was used to communicate amongst family, community, tribes. So just drawing from that. I know Rwanda has such a rich culture, especially with hairstyles?! It's just next, next level; so, for me, it wasn't hard to see where we're headed.'
The Rwandan traditional hairstyle Amasunzu gained worldwide attention after going viral a few years ago, when black and white and sepia archival photos of the elaborate hairstyle made the rounds on Reddit and Pinterest, and when actress Lupita Nyong'o wore an iteration of the style on the red carpet of the 2018 Oscars. Legend has it that the Amasunzu was typically worn by men and unmarried women and, depending on the patterns of the crest-shaped peaks, could indicate a certain period in time, a person's age, etc. Mizero, the film's Costume Designer, wears the style himself.
Matalusa, the miner-turned-hacker played by artist Kaya Free, also rocks a style inspired by Amasunzu in the film.
'[He] had such a big personality… he truly embodies this hardcore, punk, 'fuck the system' mentality—this vibe—this real raw, energetic, free-spirit that's super punk. I could see why Saul and Anisia cast him. Wow, he was like a king… He was a leader of this community in Digitaria. He had long locks, beautiful, thick, full hair, so I knew: 'We need to give you a crown, we need to let everyone know that you're the one!' So I drew inspiration from the traditional Rwandan hairstyle.'
When the star enters 'Digitaria', the film's alternate world, his hair is moulded in the ancient Rwandan style, then adorned with gold wires threaded around the crests to look like a royal headpiece.
Binya, played by Natasha Muziramakenga, was another standout character for Melendez. Binya wears blue and copper-hued sculpted braids that have a Medusa-esque shape that cascades past her shoulders.
'With Natasha being this sorceress, [this] magical woman, [this] medicine woman, who again, was just free—and with that, with her look, I really just got vibes off of Cedric's costume design. His design informed how I wanted to do Natasha's hair.'
The character wears a structured, black dress with thin, bright coloured stripes that catches the ubiquitous blacklight in the film.
Neptune transforms from a long, loose-fitting red dress and virtually no make-up, to a form-fitting sleeveless dress with long strips of iridescent fabric that allow the piece to dance in black light and flow in the wind. Her scarce makeup shines more brightly in the new lighting, and she gains a squiggly, neon accessory on her face, one that a few others in Digitaria wear.
This was Melendez's first feature film project and Cedric's third. The pair seemed very complimentary despite it being their first time meeting and working together.
'She was everything to me. She's very, very artistic. She has the eye; if there was a gap in the costume, she would cover it with her makeup. She wasn't just a makeup artist, she touched all parts. [It was] super collaborative',
Mizero said.
Any gaps there may or may not have been in costume would've totally been justified though, as Cedric started out in costume design, ended up working in set design and eventually became a Creative Director on the one film.
In Rwanda and among those in the know, Cedric is a well known visual artist with a unique storytelling style that often includes his own community and culture. He was able to incorporate that distinctive style into
Neptune Frost
.
'When I read the script that [Saul] had, I could already start to imagine how it would look because I had already spent a lot of time with them. You could see what they were looking for and also there was freedom, they let us dream. I wanted to make something in between—not too futuristic, not too in the past.

'With the budget of the movie, we needed to make something that looked kind of like the life that we're living now. So I was using material that felt like, this is us, even now. This is what I'm experiencing at this moment',
Mizero said.
The scene with the miner/drummers at the beginning and end stood out to Mizero. They undergo their own transformation upon entering Digitaria as well, each receiving unique hairstyles, make-up and outfits. As a group, their looks have some uniformity too, but with each their own distinguishing feature: one has a blue mohawk-like headpiece, another has gold-leaf flecked skin.
In the end, we see the drummers in royal blue outfits that resemble the traditional garb of Burundian drummers, and traditional Intore headdresses from Rwanda called Umugaramade out of banana leaves to look like a lion's mane.
Even now, post-release, the inspiration is still flowing for Mizero:
'I feel like when I look at the film, it's beautiful, I'm happy, but now I feel like I would love to keep creating costumes for that film. Even if it's over, even if it's finished, I want to keep creating costumes for it [laughs]',
he said.
Both artists expressed that
Neptune Frost
was a milestone in their careers. For Melendez, the milestone was working with Saul Williams, whose work she's been a fan of since she was 16 years old. For Mizero, the film affirmed his already intense aspirations to work in the film industry:
'Before [this experience], I always dreamed of working in film, and I've been trying… But after this film and watching it and having been there, being very close to the directors, seeing everything and being accepted with respect on the set, it really showed me that I can do it. My dream of becoming a director is starting to feel real. This film opened that door for me to feel like I want to die as a film director.'
As for Melendez, she describes this project as having filled her cup,
'I would just tell Saul, "This could be a cult classic, this could be forever in history. You'll have young kids cosplaying to this work and creating their own stories from it."'